Beton Cattle grids
Specifications: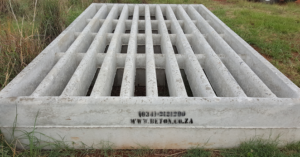 Width: 3500mm
Length: 2200mm
Height: 450mm
Mass: 2.8t
Solid reinforced concrete cattle grid.
Can carry a load of 40 tons at 40km/h
Cost:
R25 000 excl VAT
Transport:
The grid is delivered to the site with a crane fitted truck (Own transport to be arranged).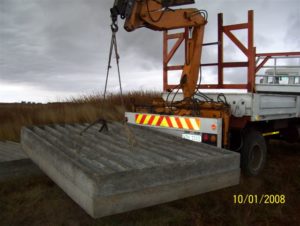 Installation time is much less then the standard procedure and there is no waiting period for the cement to set. The grid can also be lifted out and moved to a new location if need be.
A very shallow dugout is required for the grid to fit into and soil is placed on the sides to act as on- and off-ramps.  For the best result, submerge half-way and full the ramps up. This prevents the cattle-grid from flooding or becoming waterlogged during heavy rain.
Installation:
A new cattle grid that is easy to install.   No excavation for a pit and no concrete box needed just le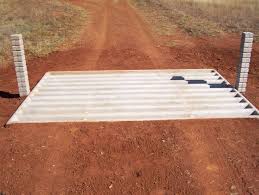 vel the site, position the grid and use gravel to build up the approaches
The cattle grid is lowered onto the prepared base. Ensure that no part of the unit it sitting on any high points.

Prepare an excavation between fence post 3.3m wide by 2.2m long. The floor of the excavation must be flat without high points.  An excavation depth of 100mm accommodates a bedding layer 50mm thick and grid set d
own of 50mm.  

The latter minimises silting up of grid and slows traffic down.

Bedding material should be packing sand or fine gravel. Ensure bedding is level both directions.

Backfill and compact around grid. Grade excavated road material up to the grid on each side to form a ramp.  If depressions occur on these ramps with use add additional material.  Rearrange fencing to suit grid width if required